Description
The Tekt Bone Conduction Headphones – B1 are built-in with ergonomic and lightweight design providing all-day comfort. These open ears wireless Bluetooth Bone Conduction Headphones – B1 are user-friendly and keep your hearing unaffected and delivering the HDstereo sound quality. As it is developed with Bone Conduction Technology, it let you be perfectly aware of your surroundings. Tekt Bone Conduction Headphones – B1 also set of features including sweat proof and ears free design. If you are wearing it while driving, running or cycling and can withstand in sweat and rain. Tekt Bone Conduction Headphones – B1 come with excellent battery life, is comfy, strong, and can serve you like the best pair of affordable Bone Conduction Headphones – B1.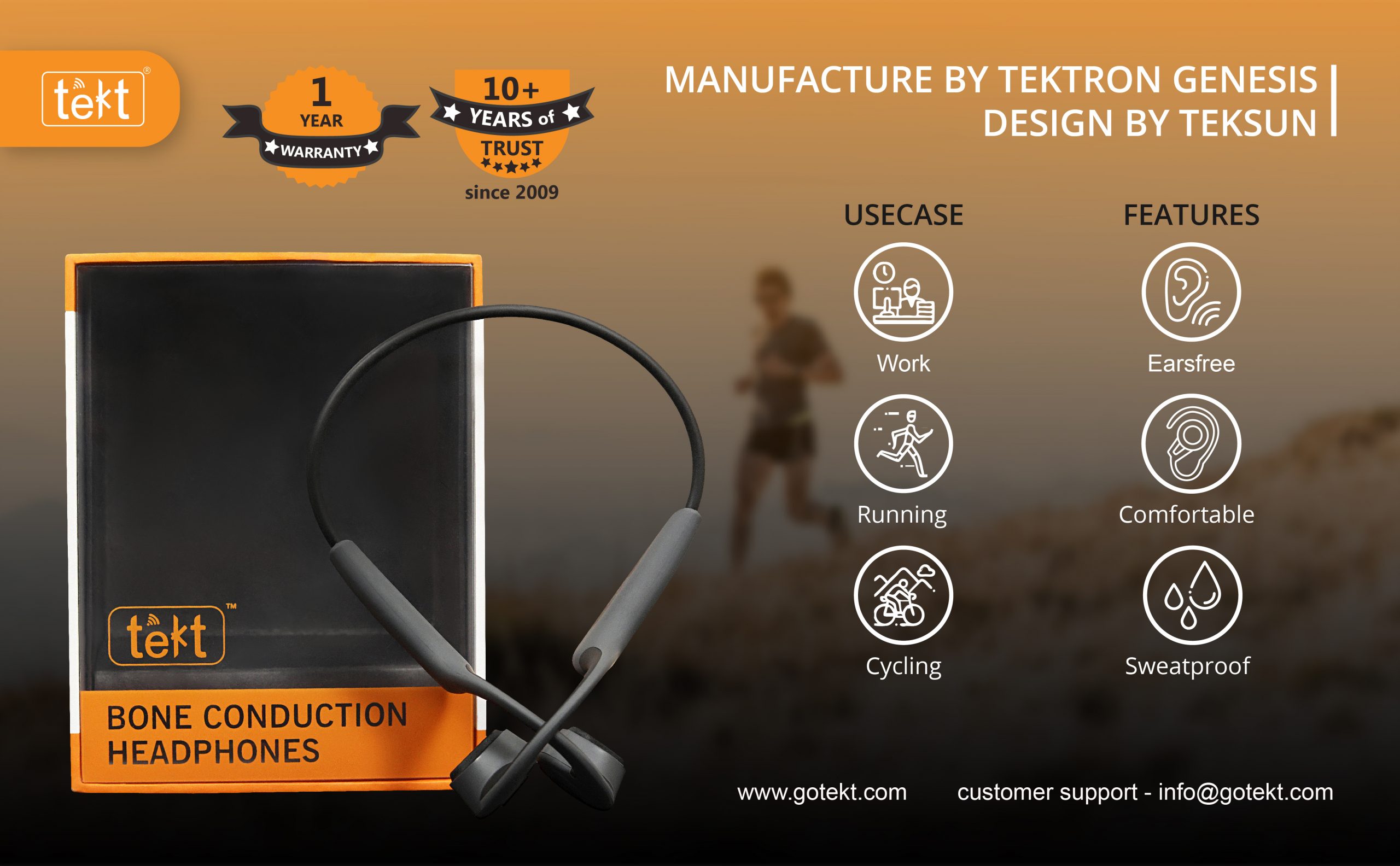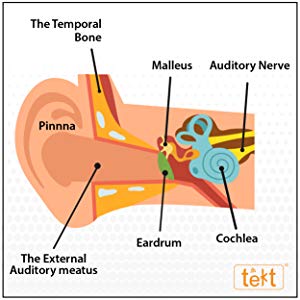 How it works?
Tekt Bone Conduction-B1 passes the sound vibrations directly to the cochlea through cheekbones bypassing the eardrum.

Once the sound vibrations reach the inner ears, it creates a brain signal so you can hear it.

It's a Bone Conduction Technology that transmits the sound to the inner ear, so your eardrum is protected.

Built for both normal hearing and hearing difficulties (healthy cochlea) as it does not use the eardrums.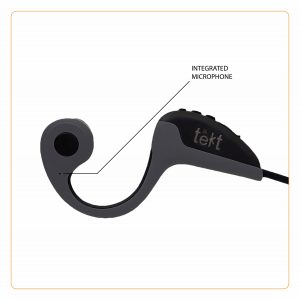 Integrated Microphone
You can answer the call with a single button tap. Listeners can hear your crisp sound and very comfortable for ears with no pain during long time uses.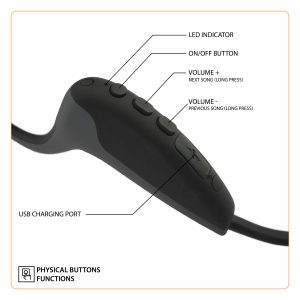 Physical Buttons
Hidden USB charging port

Power On/Off physical button

Volume up/down button

LED Indicator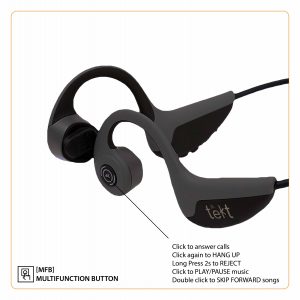 Multi-function button
One click to play/pause the music, and answer/end the call.

Double click to switch songs.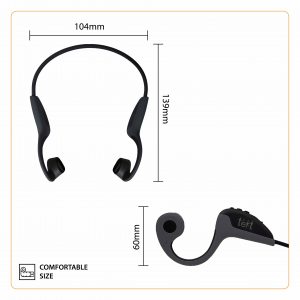 Specific Size
The ergonomic and lightweight design makes it a comfortable slip-proof fit. So, you can wear them for hours, not like traditional headphones.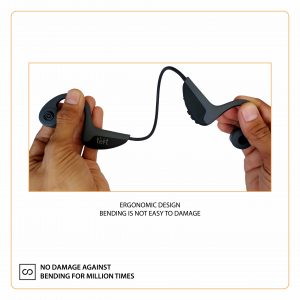 Flexible Design
Titanium alloy wire makes it incredibly flexible, you can stretch and bend strenuously.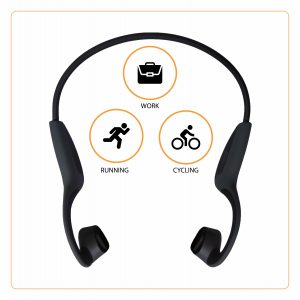 Wide Uses
Make/answer calls and enjoy the music while running, cycling, driving and working on mobile, tablet and computer. You can hear to your surroundings and your music simultaneously.
User Instruction
Charging

Use the micro USB charging cable to charge the headphone for 5-6 hours. Now Red LED will blink. As charging is done the red LED will turn into blue.

Turn on/off

Now press the power button for 3 seconds. Voice prompt "Power on" press again for 3 seconds the headphone will turn off, voice prompt "Power off".

Pairing & Connection

Voice prompt "ready to pair", enable your bluetooth and find the device named "Tekt" & tap to connect with bluetooth. Voice prompt "paired" as a device is connected.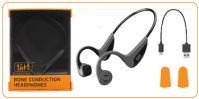 What's in the box?
1-Tekt Bone Conduction Headphone

1-User guide

2-Earplug

1-USB cable
Bone Conduction Headphone
Relying on Bone Conduction Technology, making wireless phone call and playing music bring healthy, safe and comfortable experience and are open-ear wearing, suitable for sports lovers drivers and cyclists as well as people with eardrum being damaged
Bone Conduction Loudspeaker
Hand set / Handsfree / A2DP / AVRCP
Li battery  3.7 V, 200mAh
Power adapter output (DC5V / 1A), charging time 1 – 2 hours
Call duration and playing duration about 6 hours stand by about 10 hours
Devices that support all Bluetooth protocols
IP66 (It is IP66 rated, meaning it is splash and water resistant but not waterproof. You can, for example, wear and use it during exercise, in the rain, and while washing your hands, but submerging in water is not recommended.)
Charging USB cable x 1 piece
Noise-proofing earplugs x 1 piece
Product weight / Net weight
139mm (L) x 104mm (W) x 60mm (H)
160mm (L) x 140mm (W) x 60mm (H)
I have only 1 eardrum. Will I be able to hear music through both ears with these headphones?
Our headphones use bone conduction technology, which is mini vibrations that move through the cheekbones and go directly to the inner ear, neglecting the eardrum entirely. If you have a healthy inner ear, these headphones will be a solution for you.
Why does it have a battery? Can we connect without it?
Battery is used for an amplifier that is essential to create vibration in bone technology. It won't work without a battery. You have to charge the battery through a USB cable for it to work.
Can I wear it with thick prescription glasses?
Wearing Glasses with Bone Conduction will not be an issue. Our bone-Conduction headphones are built-in very flexibly and so put the glass first then headphones as the glasses are less fall off.
Can I use these headphones for making Skype calls?
Yes definitely, you use it making Skype calls because it has a microphone.
Will this work while exercising?
Yes. I wear it while doing exercise. I also wear jogging and mowing the grass. And trust me I never had an issue of them falling off.
Is the battery rechargeable?
Yeah !! The battery is rechargeable. If you have any queries please do share with us via email to [email protected].
How long does it take to charge?
Initially you have to charge the device for 5 to 6 hours. If you don't charge the device then there is a chance of law voltage taken by the BLE device and it won't be going to work properly. Requesting all customers to charge completely before using it.
Does this product have a warranty?
Yes, it has 6 months of warranty.
Does the Tekt Bone Conduction Headphone compatible with all smartphones?
Yes, It is compatible with all devices.
What other components and control does it have?
It includes a charging cable and user guide. Yes, it has volume control i.e 3 buttons. Power on-off, volume up and down.
As I have a huge brain, will it fit my head?
Yes, definitely it will fit your head. Tekt Bone ConductionHeadphones is the largest model of bone conduction headphones. Still, you have any queries feel free to drop us a mail on [email protected]
I wear prescription glasses. Can I wear it?
Yes, definitely. It's very comfortable with any glasses.
Can I wear this while swimming?
Yes of course. We have built-in waterproof and sweatproof.
Also, showcase product certification details 
We have CE, FCC, RoHS certification for Tekt Bone Conduction Headphones.
Prepare a product Packing list 
1-Tekt Bone Conduction headphones
1-User guide
2-Earplug
1-USB Cable
How can I contact the gotekt team for support when in need?
You can mail us your query or any other product related issues to [email protected], and our team will get back to you shortly.
Only logged in customers who have purchased this product may leave a review.