Description
Tekt BLE to Ethernet Gateway – R1 is a bridge to connect the local BLE devices, sensors, or beacons to the internet through ethernet. With an easy web UI interface, one can configure the internet connection to a general cloud server, like TCP, HTTP(S), or MQTT(s). Through BLE to Ethernet Gateway, the user can develop his application based on the collected BLE devices information on the cloud.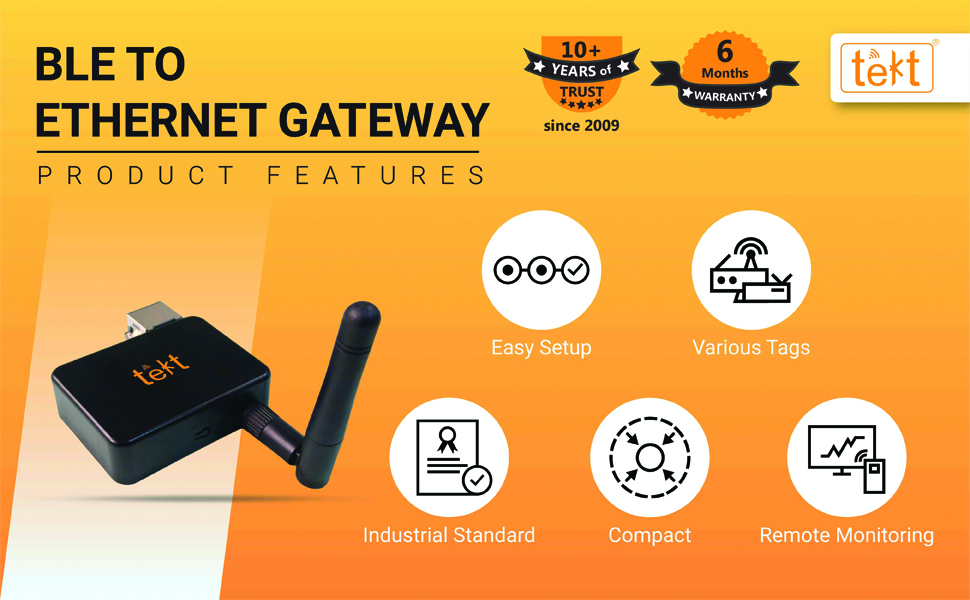 How It Works?
The Tekt BLE to Ethernet Gateway – R1 reads beacons (like iBeacon or Eddystone), customized tags, or BLE sensors and sends the information to the local TCP server or internet HTTP or MQTT server.

It supports 10BASE-T and100BASE-TX with HP Auto-MDIX. Through the Ethernet, the gateway can bridge your BLE devices to the local TCP server of the cloud server for management.

BLE is usually in listening mode. It collects the messages advertised by other BLE devices. These messages are then transferred to ethernet and sent to the cloud server configured by the user.

Default setting button-It is used to reset to default settings. In case you need to go back to the original settings, keep pressing the reset/default button in your device for over 5 secs no matter in which mode the device is. The ethernet LED will be turned off and when you release the button, the Tekt BLE to Ethernet Gateway – R1 will reboot to its default settings.

There are two LEDs to indicate current status. One is a BLE LED and the other is Ethernet LED.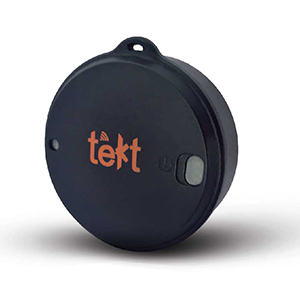 Round Beacon
Small coin-like enclosure: the perfect solution for people and asset tracking

Support anti-lost positioning for your mobile phone, key, bags and some other valuable objects.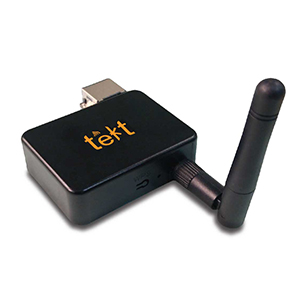 Gateway
Elegant, small size, easy installation, and connect-configure

Support industrial operation temperature i.e. -20'C to 60'C

It supports TCP/HTTP(s)/MQTT(s) server or your own private server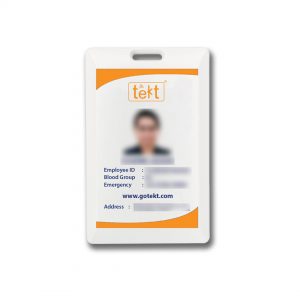 Card Beacon
Slim card-like enclosure : the perfect solution for people and asset tracking

Water proof housing : It protects from environmental threats
User instructions
Tekt BLE to Ethernet Gateway – R1 is a DHCP client by default. To configure it, you have to connect it to a router with DHCP enabled.

Initially you have to find Tekt BLE to Ethernet Gateway's IP address from the network so that you can get into its web UI for configuration.

If you don't know the IP address, you can use a tool like advanced IP scanner to find it.

Once you know Tekt BLE to Ethernet Gateway's IP address, now enter the IP address in your browser.

The default account/password are both "admin". You can change the password later. In web UI, any change needs to be saved first.
iBeacon/Eddystone/Tag receiver for location tracking
BLE sensor reader for sensor network
Health and Wellness monitoring
Reads multiple BLE devices in the same time
Support TCP/HTTP(s)/MQTT(s) server
Standalone 2dBi dipole antenna
Reads message advertised from BLE device
10BASE-T and 100BASE-TX auto-negotiation
Standalone 2dBi dipole antenna
IEEE802.3x flow control for full-duplex mode
IEEE 802.3az energy efficient ethernet
HP auto-MDIX crossover function
Product weight / Net weight
55mm (L) x 55mm (W) x 18mm (H) (not including antenna)
Does this product have a warranty?
Yes, it has a 6 months of warranty.
Will this product work on the firewall?
No, Data posting will not work if your network has a firewall setup. For this product, you need an unblock/ open network.
Does it support static IP?
Yes. R1 uses a DHCP IP default. You can also use a configure tool to set a static IP.
How to do a factory reset?
There is a button on one side of the Ethernet port. Press the button for 5 secs, re-power the device to finish the factory reset.
I am living in Dubai. So will it work in 50'C Temperature?
Yes, definitely. -20'C to 60'C is its Industrial Working Temperature
What is its Frequency range?
Well, TEKT BLE to Ethernet Receiver R1 supports 700ms of Frequency range.
Why can't the gateway connect to Ethernet?
Please check your Ethernet LED and if you have a firewall on your network, then the gateway will not be able to connect to Ethernet.
How can I contact the gotekt team for support when in need?
You can mail us your query or any other product related issues to [email protected], and our team will get back to you shortly.
Additional information
| | |
| --- | --- |
| Size | Small, Medium, Large, Extra Large |
| Color | Black, Brown, Red, White |
Only logged in customers who have purchased this product may leave a review.